Enterprise Application Integration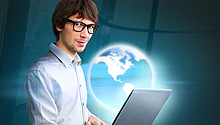 Our range of solutions also includes Enterprise Application Integration that reduces inter-dependency of the information thus aligning your IT environment. We seamlessly bring together legacy systems, ERP, CRM, Web-Enabling, solutions that work across various realms.
Equipped with the latest technology we constantly innovate to create best in class applications maximizing your Return on Investments (ROI). We meet the growing demands of the dynamic market thereby stabilizing your business in the competitive world.
Our partnership with some leading EAI vendors enables us to leverage technology solutions to meet the emerging demands. We provide independent vendor tool management, modular and scalable tools that cater to all size of projects.
Through the project we also evaluate your present tools calculating the effectiveness of the measures being taken. Our strategy includes:
EAI integration
Scope study
Risk evaluation
EAI tool productivity analysis
ROI evaluation
EAI architecture and design
Costs and resource requirements estimation
Implementation of end-to-end EAI solutions
Post implementation support and service