Managed Services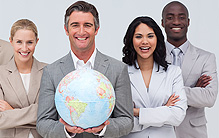 We provide you managed services and assist you in managing your entire business process. We have a holistic approach which enables us to aid you with integrated services that meet your objectives and complete Application Management Services, while catering to your entire infrastructure need.
We possess a highly qualified team that possess knowledge in all technology domains and can assist the client in every aspect. They partner with clients providing them with strategic solutions that add value to your business propositions. Technology innovations and competency centers enables us to meet your demands.
Customized managed solutions and strategic plans create a long term process that improves your output and results. A detailed plan of action facilitates you to better understand the planning, initiation and implementation.
Cost effective solutions are created as per the requirements for better customer satisfaction, while reducing the time-to-market and delivering new products and services in the stipulated time. A well planned and distributed operation system works towards making you a cohesive organization.